Customization Extra
The Customization Extra enables the ability to add and remove different types of fields and dynamically create custom page templates to match internal naming conventions and workflows.
What are SimpleRisk Extras?
SimpleRisk Core is our widely acclaimed, award winning, free and open source product that has been downloaded over 60,000 times and contains all of the basic Governance, Risk Management and Compliance (GRC) functionality needed to establish a foundational GRC program. As an organization's GRC program matures, extended functionality is often required to meet requirements beyond what is available in the SimpleRisk Core offering.
To address these expanded needs, SimpleRisk has developed a variety of plug-and-play modules termed "Extras" that provide functionality above and beyond our SimpleRisk Core offering. These plug-and-play modules will be essential to the success of your GRC program as your organization grows and matures its processes. While all of our Extras are available in packaged bundles with both SimpleRisk On-Premise and Hosted deployment models, they can also be purchased A La Carte for those organizations that choose to deploy our platform on-premise.
Why was the Customization Extra created?
Earlier versions of SimpleRisk contained functionality that allowed customers to re-purpose field names. While this initial approach worked for many customers, the capabilities fell short of expectations for an enterprise offering, so in 2018, the Customization Extra was introduced.  This Extra allows users to create virtually any field they can imagine.  Currently, we support seven data types including Short Text, Long Text, Single-select or Multi-select Drop Downs, User Multi-select Drop Downs, Date Selectors, and Hyperlinks.
How is the Customization Extra used?
The Customization Extra allows users to customize existing fields or add new fields to match internal naming conventions and workflows.  Customization offers many advantages, but the feedback we frequently obtain from users about the value of the Customization Extra is its ability to:
Promote more rapid and widespread adoption of SimpleRisk;

Streamline internal processes to match existing workflows;

Provide added levels of reporting granularity when used with the Dynamic Risk Report. 
Shortly after the Customization Extra was introduced, CEO and SimpleRisk creator, Josh Sokol, wrote a blog titled "Quickly Customize Your Risk Management Program." In this blog, Josh outlines the step-by-step process on how to customize workflows and naming conventions using this Extra.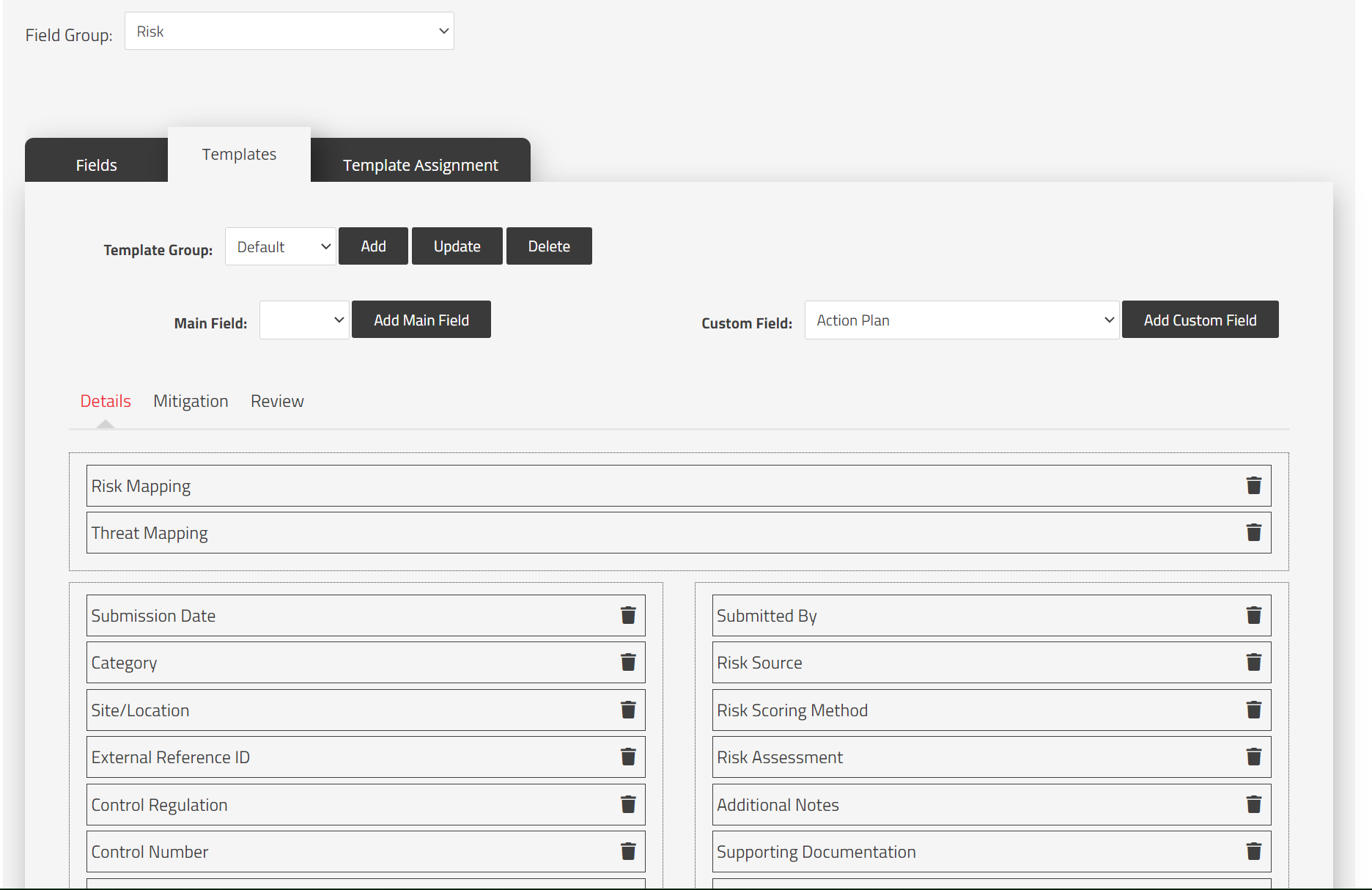 What users would benefit from the Customization Extra?
SimpleRisk administrators benefit from the Customization Extra, since it makes tailoring the system to meet the needs of SimpleRisk users, stakeholders and management a very straightforward process.  In addition, customizing the system to match workflows and naming conventions benefits all SimpleRisk users by making it even more intuitive to navigate.
Which plans include the Customization Extra?
Our On-Prem Premium Package and our Hosted Large Enterprise Package provide access to the Customization Extra. Although our packages provide the most cost-effective way to purchase Extras, we do offer an A La Carte option if you are interested in customizing which Extras you would like to purchase.
How can I learn more about the Customization Extra or try it out for myself?
To learn more about the Customization Extra or discuss specific use cases for how your organization could use it, feel free to schedule a demo online. If you would like to try out the Customization Extra functionality for yourself, we offer a free (no credit card required!) 30 day trial. Please reach out to SimpleRisk Support if you have any additional questions about the Customization Extra or any of the additional functionality that we offer.