Incident Management Extra
Incident Management Extra
The Incident Management Extra is based on the NIST 800-61 Computer Security Incident Handling Guide and provides incident management capabilities from within the SimpleRisk system.
What are SimpleRisk Extras?
SimpleRisk Core is our widely acclaimed, award winning, free and open source product that has been downloaded over 60,000 times and contains all of the basic Governance, Risk Management and Compliance (GRC) functionality needed to establish a foundational GRC program. As an organization's GRC program matures, extended functionality is often required to meet requirements beyond what is available in the SimpleRisk Core offering.
To address these expanded needs, SimpleRisk has developed a variety of plug-and-play modules termed "Extras" that provide functionality above and beyond our SimpleRisk Core offering. These plug-and-play modules will be essential to the success of your GRC program as your organization grows and matures its processes. While all of our Extras are available in packaged bundles with both SimpleRisk On-Premise and Hosted deployment models, they can also be purchased A La Carte for those organizations that choose to deploy our platform on-premise.
Why was the Incident Management Extra created?
Over the years, we obtained numerous requests from customers and prospects alike to add incident management into our suite of SimpleRisk Extras. Our goal with Incident Management is to limit the potential disruption caused by such an event in order to return to business as usual, as quickly as possible. If Incident Management is not performed effectively, an incident has the potential to disrupt business operations, information security, IT systems, employees, customers and other vital business functions. 
How is the Incident Management Extra used?
The Incident Management Extra is built on top of our GRC platform.  This plug-and-play module utilizes the methodology expressed in the NIST 800-61 Computer Security Incident Handling Guide to provide guidance on the steps to prepare for an incident, enable users to submit new incidents, assign them, and then prioritize them and define locations and associations.  Once an incident has been created, this feature will allow you to define playbooks for how to handle your incidents (we give you nine different playbooks by default) which will impact your Containment, Eradication and Recovery steps.  Users can attach evidence and add notes, define lessons learned and report on various incident metrics.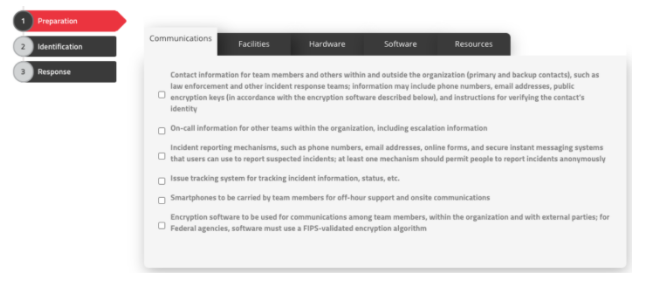 What users would benefit from the Incident Management Extra?
An incident is an event that could lead to the loss of, or disruption to, an organization's operations services or functions. Incident Management is the term used to describe the activities which an organization takes to identify, analyze and correct hazards to prevent a future re-occurrence. If an incident is not managed, it can escalate into an emergency, crisis or disaster. Given the potential impact of an incident, deploying an incident management system not only benefits the team responsible for incident response, but also benefits the entire organization.
Which plans include the Incident Management Extra?
The Incident Management Extra is priced separately, as it represents a completely different set of functionality outside of the SimpleRisk GRC platform.  It can be purchased as a separate add-on with the On-Premise Premium Package or our Hosted Large Enterprise Plan.  For those customers that choose a SimpleRisk On-Premise deployment model, we also offer an A La Carte option for the Incident Management Extra, if you are interested in customizing which Extras you would like to purchase.
How can I learn more about the Incident Management Extra or try it out for myself?
To learn more about the Incident Management Extra or discuss specific use cases for how your organization could use it, feel free to schedule a demo online. If you would like to try out the Incident Management Extra functionality for yourself, we offer a free (no credit card required!) 30 day trial. Please reach out to SimpleRisk Support if you have any additional questions about the Incident Management Extra or any of the additional functionality that we offer.