Jira Integration Extra
The Jira Integration Extra enables two-way synchronization of risk, mitigation, and review data between a Jira instance and SimpleRisk.
What are SimpleRisk Extras?
SimpleRisk Core is our widely acclaimed, award winning, free and open source product that has been downloaded over 60,000 times and contains all of the basic Governance, Risk Management and Compliance (GRC) functionality needed to establish a foundational GRC program. As an organization's GRC program matures, extended functionality is often required to meet requirements beyond what is available in the SimpleRisk Core offering.
To address these expanded needs, SimpleRisk has developed a variety of plug-and-play modules termed "Extras" that provide functionality above and beyond our SimpleRisk Core offering. These plug-and-play modules will be essential to the success of your GRC program as your organization grows and matures its processes. While all of our Extras are available in packaged bundles with both SimpleRisk On-Premise and Hosted deployment models, they can also be purchased A La Carte for those organizations that choose to deploy our platform on-premise.
Why was the Jira Integration Extra created?
The goal of this integration was to provide an easy way to sync risk information between the Jira system and SimpleRisk, allowing business users to utilize the Jira system for capturing risks, while the risk management function uses SimpleRisk for the more advanced management and analytics. We have had many requests for ticketing system integration over the years as a way to encourage and accelerate wider adoption of the SimpleRisk GRC platform within an organization. In short, the Jira Integration Extra eliminates the need for Jira users to login to the SimpleRisk system separately to enter and manage risks making it simple for Jira stakeholders to contribute and advance an organization's risk management program.
How is the Jira Integration Extra used?
With the Jira Integration Extra, SimpleRisk has native bi-directional integration with Jira.  With this feature enabled, tasks created in Jira will create new risks in SimpleRisk and vice-versa.  SimpleRisk will also synchronize fields like comments, details, subject and status across these two systems. The screenshot below shows how a SimpleRisk instance is configured to synchronize with a remote Jira instance: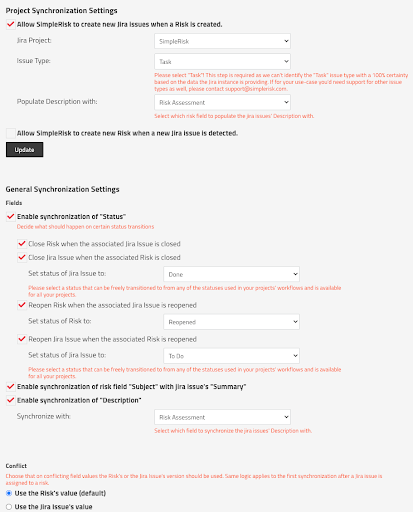 What users would benefit from the Jira Integration Extra?
Jira integration provides benefits to both Jira users and SimpleRisk users. With Jira users, they're able to enter, update, and manage risk data directly via software they are already familiar with, providing a seamless, frictionless experience, since there's no need to login to a different system. For SimpleRisk users, they benefit from obtaining the added input of risk data and updates submitted by Jira users that may not otherwise be accessible. This bi-directional integration enriches the quantity and quality of the risk data in the SimpleRisk system to help advance enterprise risk management across the board, providing organization-wide benefits.
Which plans include the Jira Integration Extra?
The Jira Integration Extra is included with the On-Premise Premium Package or our Hosted Large Enterprise Plan.  For those customers that choose a SimpleRisk On-Premise deployment model, we also offer an A La Carte option for the Jira Integration Extra, if you are interested in customizing which Extras you would like to purchase.
How can I learn more about the Jira Integration Extra or try it out for myself?
To learn more about the Jira Integration Extra or discuss specific use cases for how your organization could use it, feel free to schedule a demo online. If you would like to try out the Jira Integration Extra functionality for yourself, we offer a free (no credit card required!) 30 day trial. Please reach out to SimpleRisk Support if you have any additional questions about the Jira Integration Extra or any of the additional functionality that we offer.